Here I have collected my various audience building, platform building, marketing, and readership engagement initiatives. There will be some overlap with my CV, but rather than focus on academic and professional accomplishments, this Readership Initiatives list will focus on my dedication to innovation in terms of cultivating new readership while respecting and growing current readership.
You may notice that much of my promotional efforts rely upon my 6+ years in the local search and interactive search marketing industry. This experience has allowed me to develop a unique understanding of search engine optimization and social network building, which I enthusiastically leverage for marketing my own work as an author.
Click the linked sections below to view details.
Just as important as creating new content is ensuring that content is distributed as widely and effectively as possible. By customizing a system of tags, categories, RSS feeds, and playlists, I can ensure that my content reaches its appropriate audience with minimal manual interference (re: minimal time away from writing books)
Most of my syndication efforts begin at my website. By concentrating my content on a single origin, I am able to organize and effectively distribute content to a variety of platforms, each with their own, unique potential readership.
Blog content is tagged to ensure distribution to specific niche audiences (ex: posts tagged "Charactered Pieces" feed to the Charactered Pieces facebook page).
YouTube Playlists have been established using category/tag logic allowing specific playlists to populate appropriate distribution niches. Niche activity includes auto-populating videos to book-specific Facebook pages and website pages. Playlist examples include one playlist for each of my books, one for my video blog, and one for live performance recordings.
Blog syndication using LinksAlpha. This service allows syndication to 20+ blog content sites including Blogger, Delicious, Facebook, MySpace, tumblr, Twitter, WordPress, and more.
Video syndication using OneLoad.com. This service allows syndication to 7+ video hosting sites including YouTube, Daily Motion, MySpace, Metacafe, Veoh, Photobucket, Stupid Videos, and more.
Video uploads to YouTube, Facebook and Google+
Growing readership means creating quality content, consistently and reliably. Each site below represents a platform for active reader growth.
Social media has proven to be an effective outreach platform. By leveraging each platform's unique capabilities, along with a system of hyper-syndication, I am able to not only actively participate in so many social network sites, but am able to do it effectively.
Active Social Network Participation
I currently engage in over 29 social profiles. The full profile list can be found at my Social Bio page. Noted below are some of the more beneficial social networks in terms of building my platform.
Twitter (about 8% of my total site traffic)
Twitter is a primary way I share information not only about myself but about other writers.
I manage multiple Twitter feeds (shown below). I use them to curate niche networks which I leverage to promote my own work intermittently. Content from a variety of vetted blogs is auto-populated to each of these Twitter streams, which encourages faith in aggregated content.
Facebook (about 10.54% of my total site traffic)
I maintain both a personal Facebook page as well as a fan page, the latter is used exclusively for writing related content and network building. In addition to these pages, as well as pages for each of my books, I manage two writing/reading community pages. Similar to the aforementioned aggregated Twitter feeds, each of these sites receives my own content intermittently.
Goodreads
Goodreads.com has proven to be a reliable resource for gaining new readers. In fact, I've conducted detailed tests to find out the value of a Goodreads book giveaway entrant, which can be found on my Tests and Studies page.
Friend Count: 892
Fan Count: 91
YouTube
YouTube acts as the central hub for all of my video content, including but not limited to my World's First Author Video Blog series. Though I utilize OneLoad.com to significantly increase the distribution of my videos, YouTube is the most reliable and widely used video site.
Google+ (about 2% of my total site traffic)
Email is Dead email newsletter
The Email is Dead email newsletter is a monthly email newsletter that summarizes and reinforces my platform message by way of highlighting my recent popular blog posts, guest article work, publications, live appearances, and more. Newsletter offers the choice to receive Reader info, Writer info, or Both so I can more accurately target my messages to specific demographics.
Live Events
I pride myself in integrating myself into as many relevant literary communities as possible, including both online (forums, blog networks, etc.) and offline (writing conferences, speaking engagements, etc.). Below is a list of the various events I have participated in and continue to participate in, as well as details regarding my role in each event.
Author readings. Organized and promoted various readings (in which I participated) independently of publisher financial support including events in Denver, CO, Washington, D.C, and multiple events in Kansas City, MO. Future events can be found at my dedicated Events page. Past events are archived in my Past events database.
Event handouts. Created multiple variations of business card-sized handouts, each version created with a specific target in mind. See image below for examples.
AWP Conferences. I have attended nearly every Association of Writers and Writing Programs (AWP) conference since 2004. Additionally, I participated in a panel in 2011 titled The Art and Authenticity of Social Media: Using Online Tools to Grow a Community (summary and audio found here), with Tanya Egan Gibson, Dan Blank, Bethanne Patrick, Christina Katz, and moderator Jane Friedman.
Tallgrass Writers Workshop. I was invited to teach two sessions at the 2012 Tallgrass Writing Workshop at Emporia State University. Other workshop faculty included Amy Sage Webb, Thomas Fox Averill, Linda Apple, Max McCoy, Jim Hoy, Cheryl Unruh, and Annie Wilson. I taught two panels, "Planting a Story: How to Grow a Plot from a Single Seed" and "Surviving Online: Why Social Media is Not a Waste of Time for Authors."
My years in internet marketing have taught me the value of conducting tests and analyzing results in order to show—not assume-the value of marketing methods. I've carried this idea over to my book promotion efforts, and routinely publish the results of my various tests. Linked below are three of my Research & Development initiatives, along with details of each.
Optimize the Author initiative. optimizetheauthor.com – The domain www.optimizetheauthor.com is currently being built to eventually serve as a central repository for my SEO for Authors and Book Marketing Tests and Studies articles, with the eventual goal of reformatting and redistributing the content as a book. Optimize the Author will become a hub for author marketing information and insights that may be less-acknowledged by new and established authors alike. Topics such as Search Engine Optimization, promotional tracking measures, and more will be addressed.
Marketing Tests and Studies blog category. Blog posts that detail the various book marketing tests I've conducted over the years. I take pains to measure and track as many facets of these tests as possible, including using website analytics tracking, A/B testing, and precision methodology. Some are successes. Some are absolute failures. None are a waste of time.
SEO for Authors blog category. Blog posts about the role of Search Engine Optimization in the author's promotional efforts, culling from my years as an SEO (Search Engine Optimizer) for an interactive marketing agency.
Gaining new readers is important, but just as important is making sure existing readers know how much you respect them. The efforts below are varied, each one being unique enough to warrant entire pages dedicated to them. However, for the sake of brevity, I've given short explanations below along with links that offer additional information.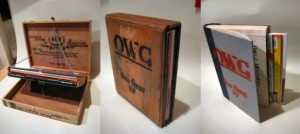 The Story Vault. Accessibility to my work is important for expanding my readership. With this in mind, I created TheStoryVault.net, a mobile-friendly repository of all my published short fiction. The stories can be filtered by various attributes including publication, publication date, genre, content/theme, length, excerpted from, and original collection.
Behind the Scenes using QR codes. When I regained the distribution rights to my first story chapbook, Charactered Pieces: stories, I decided to re-release the print version with a unique twist. Each chapter ends with a QR code that, when scanned by a smartphone barcode app, takes the reader to various behind the scenes documents including explanations of the story from myself, links to interviews and articles I've done that involve the stories, and even videos that relate the stories.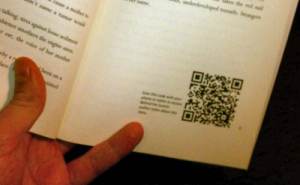 Blog Tours. To support the release of Charactered Pieces: stories and the release of my novels Stranger Will and I Didn't Mean to be Kevin, I organized blog tours. Blog tours are a series of guest posts on various blogs. For the Charactered Pieces: stories blog tour I wrote custom posts for 22 blogs. For the Stranger Will/I Didn't Mean to be Kevin blog tour I wrote custom posts for 70+ blogs. The benefit of this is more than just exposure to new readers (though that benefit cannot be understated). Inbound links are extremely important in the world of SEO; I leveraged these guest blog posts to finally nab the top search engine ranking spot for the term [Caleb Ross], which is the name of a semi-famous New Zealand actor. I document my inbound linking strategy in my post "How to Standardize Your Author Name for Search Engines."
Press Kits. Press kits, including author photos, bios, promotional imagery, and book covers are easily accessible and always updated. Having a centralized location for press materials helps to ensure that media outlets have access to materials while also helping to promote consistency with my branding. The press kits can be found here.
Preorder specials. Preorders have always deserved an extra special approach. Readers who preorder books are true fans, fans that may me more willing to help evangelize for my work. Therefore, I try to organize special pre-order promotions for every book release. Below are links to descriptions of each preorder event.

Charactered Pieces: stories – Lungs for Readers. For the details, click here. For the video, click here.
Stranger Will: a novel – "Noise," a story inscribed in 14 pieces on preordered copies of the novel. For the details, click here.
As a Machine and Parts and I Didn't Mean to be Kevin: a novel – All preorders were personally inscribed.
World's First Author branding
Branding is important. One aspect of my personal branding initiatives includes using a variation of the phrase "Worlds's First Author ____" in my content distribution channels. The examples below each link to the respective property.
Domaining. I own the following domains, each with potential to be built out to enhance my online footprint. Some of these are the in process of being built. Others are currently redirecting to my main homepage (www.calebjross.com)
noirauthor.com
optimizetheauthor.com – This domain is currently being built to eventually serve as a central repository for my SEO for Authors articles, with the eventual goal of reformatting and redistributing the content as an eBook.
thesocialmediaauthor.com
noirliterature.com
calebross.net
neonoir.org
theliternet.com
calebjross.net
calebjross.org
---
Subscribe to my amazing, hilarious YouTube channel. Just click the button below.

Consider sharing this post on Facebook, Twitter, and Google+. Think of it as a way to tell a friend "I'm thinking of you."