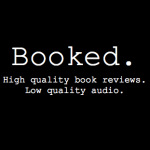 Though this interview at Booked Podcast was not a pre-planned stop on my blog tour, the diversion is a welcomed one and certainly deserving of an official blog post. All in all, I had a great time with these guys. Robb and Livius are true book fans and were incredibly easy to talk with. I only hope my many asides did not make editing a nightmare for them.
Click here to listen to the interview. Also, don't forget that if you comment on all guest blog posts, you will get free stuff.
---
Subscribe to my amazing, hilarious YouTube channel. Just click the button below.

Consider sharing this post on Facebook, Twitter, and Google+. Think of it as a way to tell a friend "I'm thinking of you."
About Caleb J. Ross
Caleb began writing his sophomore year of undergrad study when, tired of the formal art education then being taught, he abandoned the pursuit in the middle of a compositional drawing class. Major-less and fearful of losing his financial aid, he signed up to seek a degree in English Literature for no other reason than his lengthy history with the language. Coincidentally, this decision not only introduced him to writing but to reading as well. Prior this transition he had read three books. One of which he understood.