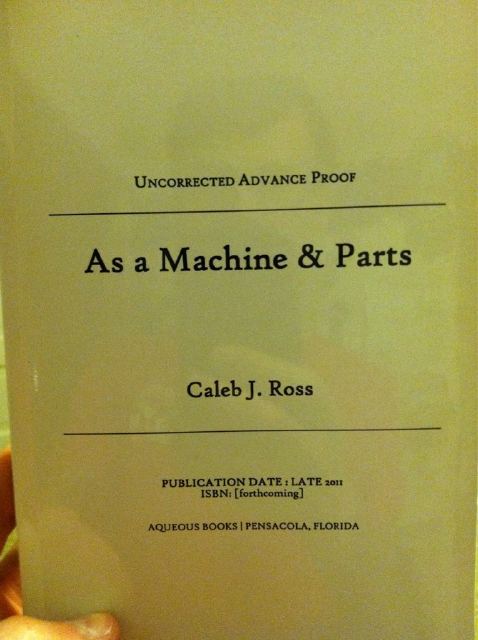 Apparently there are a couple of Advance Reader Copies of my forthcoming book, As a Machine and Parts floating around out there, giving bad names to bookshelves across the country. One landed in Ben Tanzer's filthy mitts (creepy refection in the image above is actually Nik Korpon, however). Having the man behind You Can Make Him Like You and My Father's House say such nice things about my book makes me all crazy inside. His words, as he might say, have changed my life (that is a comment on the title of his own blog, This Blog Will Change Your Life, not a comment on Ben Tanzer's ego).
His words, not mine:
"There was once a Marvel comic book called "What if…" and in it Uatu the Watcher, a bald sage-like character with an enormous head spun speculative tales of alternative versions of the Marvel Universe you thought you knew. With As a Machine & Parts Caleb J. Ross continues to stake his claim as his generation's Watcher, which should not be construed as a commentary on his beautiful, yet clearly fake head of hair, but instead as an observation about the scope of his imagination and his ongoing vision of what the world can be, might be and just may will be if Ross has anything to say about it"
---
Subscribe to my amazing, hilarious YouTube channel. Just click the button below.

Consider sharing this post on Facebook, Twitter, and Google+. Think of it as a way to tell a friend "I'm thinking of you."
About Caleb J. Ross
Caleb began writing his sophomore year of undergrad study when, tired of the formal art education then being taught, he abandoned the pursuit in the middle of a compositional drawing class. Major-less and fearful of losing his financial aid, he signed up to seek a degree in English Literature for no other reason than his lengthy history with the language. Coincidentally, this decision not only introduced him to writing but to reading as well. Prior this transition he had read three books. One of which he understood.