The Velvet Podcast, Episode 008: Don't Pull My Hair Unless You Mean It
Episode #008 of The Velvet Podcast is now live!
You don't have my handsome voice to fluff your ear chubs this time, but I promise you won't be disappointed by the talent here. Featuring three brand new voices to The Velvet Podcast. Make them feel welcome.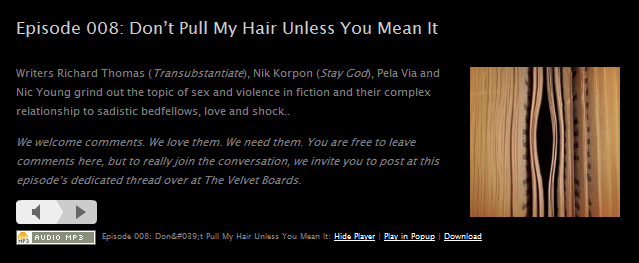 Writers Richard Thomas (Transubstantiate), Nik Korpon (Stay God), Pela Via and Nic Young grind out the topic of sex and violence in fiction and their complex relationship to sadistic bedfellows, love and shock..
Please, give it a listen. Subscribe via Feedburner, Podcast Alley, or iTunes.
…
Read the rest