(part of my ongoing Unexpected Literary References series)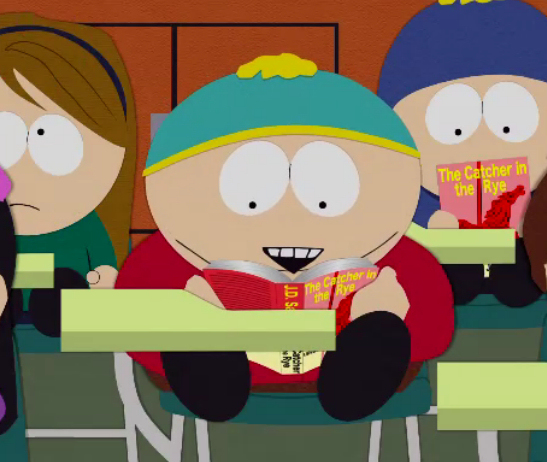 I briefly mentioned this Unexpected Literary Reference way back on the first official post of this series, but this one certainly deserves some special attention. The Tale of Scrotie McBoogerballs (Season 14, Episode 2) is an episode of South Park that speaks directly to the idea that historically banned books, placed in the context of modern media, simply don't have the power that they once may have. The is called out for being a poor commentary on contemporary teenage angst.
About The Tale of Scrotie McBoogerballs (taken from Wikipedia):
The students at South Park Elementary are assigned to read The Catcher in the Rye, and grow excited when Mr. Garrison tells them that the book has caused so much controversy, it has been banned frompublic schools in the past. However, after reading the book, Stan, Kyle, Cartman, and Kenny are angry to find the content completely inoffensive, and feel the school has "tricked" them into reading. They decide to write their own offensive novel, The Tale of Scrotie McBoogerballs, with the intention of disgusting as many people as possible and getting the book banned…Fearful they will get into trouble for the book's content, Stan and the boys tell Butters he actually wrote the book.
---
Subscribe to my amazing, hilarious YouTube channel. Just click the button below.

Consider sharing this post on Facebook, Twitter, and Google+. Think of it as a way to tell a friend "I'm thinking of you."
About Caleb J. Ross
Caleb began writing his sophomore year of undergrad study when, tired of the formal art education then being taught, he abandoned the pursuit in the middle of a compositional drawing class. Major-less and fearful of losing his financial aid, he signed up to seek a degree in English Literature for no other reason than his lengthy history with the language. Coincidentally, this decision not only introduced him to writing but to reading as well. Prior this transition he had read three books. One of which he understood.