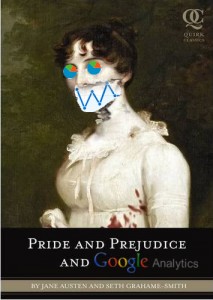 (Announcing a new post category: Search Engine Optimization for Authors. Well, it's new in that I've finally given a name to it, but as you can see by clicking over to the category, there are a few past posts that fit within this category)
If you've read Christina Katz's fantastic Get Known Before the Book Deal, or have been at all concerned about building that illusive "platform" so many industry types talk about then either 1) you are an author with a career somewhere between beginning and burgeoning, or 2) you're interested in the publishing industry for slightly different, though I'm sure equally masochistic, reasons. Either way, one of the cornerstones of author presence in our Web 2.0 world (aren't we at Web 2.1 yet, at least?) is the blog. Despite its cornerstone status, many authors aren't sure where to begin. Or worse, they take the leap into bloggery without considering how to leverage such a forum for their own career goals (okay, time to put on the Purina checkerboard slacks, you sleazy salesman).
Which blogging platform to use?
There are hundreds of blogging platforms available, ranging from the well-known (WordPress, Blogger, Blogspot, even Facebook Notes can be considered a form of blogging) to the lesser-knowing (Gather, Posterous) to the entirely made up (IdeasAndThings.com, BloggingForBeer). Though my experience is limited primarily to Blogger and WordPress, based on research and my own empirical data I really only need this limited experience. I'll say it now: WordPress.ORG is the ultimate blogging platform. But is it the best for authors? Yes. Yes, it is.
WordPress.com vs. WordPress.org
A free WordPress.com blog (www.example.wordpress.com) is not the same as a self-hosted WordPress.org blog[1]. Unfortunately for those of you who use the former, even if you've purchased your own domain name to mask the .wordpress.com part, you aren't getting the full benefit of the WordPress software. My goal then will be to convince you to pony up the few dollars per month for some hosting space so you can host your own website. I use Bluehost and haven't had any trouble with it.
The problem with a free blog, like WordPress.com, Blogger, or any other, is that the free software has limitations that prevent you from really being able to do everything you might like to do with your website. These limitations generally have to do with using (or not using, as is the case) any type of scripting, such as Javascript or Flash video[2]. Stop yawning! This is important.
Scripts are used more than most people are aware. That fancy Twitter feed in my sidebar. That's a script. Those media players in my podcast episode posts. Script. The Currently Reading box to the right where I can show off my elitist in-the-know brainery. Script. The rotating banner at the top of my homepage. Yep. Script. Those social sharing buttons at the bottom of this post and floating to the right of the screen. Guilty. Script. And with WordPress, there are literally thousands of plugins that allow someone with no knowledge of any kind of script to dynamically adapt the look of a blog to suit his or her current fancy. Basically, if you can dream it, there's probably a plugin for it. (I often say the same thing about Microsoft Excel, but I won't get into that now as I've probably already surpassed by nerdery limit for this post).
The most important script of all: Google Analytics.
Most free blogging platforms will give you some general traffic data (number of page views, number of hits…and that's about it). Google Analytics (free, by the way) gathers, digests, and excretes so much information you'll need to consult a doctor for having a 4-hour+ raging data boner.
Who cares about so much information, right? You, the entrepreneurial author should. As authors are increasingly being charged with marketing tasks, it is important to think like a marketer. What do marketers do well? They test, measure, and replicate. Google Analytics allows you to test promotional ideas, measure the results, and repeat with equal or better results.
Say you wrote a blog post. You know how many times the post was viewed (which is different than the number of page visitors, by the way). Shouldn't that be all you need? No. You might need to know how long a person spent on that post (to estimate engagement); if it was the first post visited upon entering the site (landing page) or last post visited before leaving the site (exit page); what keywords brought the visitor to that page; and what actions a person took on that page. Why? How else are you going to know if what you wrote resonated with people? How else are you going to know if you should write more content with a similar intent? The more you can understand your audience, the more likely they are to come back for more (and perhaps buy a book). I know, I know, there is magic is simply creating the words and not caring who reads it, right? Try telling that to the agent or publisher you are trying so hard to lasso.
Over the next few weeks I plan to explore some of the more important aspects of Google Analytics with particular attention paid to how understanding data can help an author connect with readers and ultimately sell a few books. Some of the topics might be:
digging into popular keywords to mine for blog content
where your visitors come from can help you focus your outreach
using a URL builder and custom shortlinks to track the effectiveness of non-internet advertising (how well did those postcards work, really?)
To keep up, either check back here often or subscribe to my RSS feed. If you want to subscribe only to the SEO for Authors category (which will make me sad, but I understand) you can do that too by clicking this subscribe to Search Engine Optimization for Authors category link. Last option, subscribe to receive new posts by email: 

---
Subscribe to my amazing, hilarious YouTube channel. Just click the button below.

Consider sharing this post on Facebook, Twitter, and Google+. Think of it as a way to tell a friend "I'm thinking of you."
[1] Wordpress offers its software for free at WordPress.ORG. Simply download the software and install on your new server space. Some hosts, like Bluehost, let you bypass the download part entirely and install the software directly from the web host account dashboard. ↩
[2] Some free blogging platforms allow some scripts. But the selection is limited and usually not very customizable. ↩
About Caleb J. Ross
Caleb began writing his sophomore year of undergrad study when, tired of the formal art education then being taught, he abandoned the pursuit in the middle of a compositional drawing class. Major-less and fearful of losing his financial aid, he signed up to seek a degree in English Literature for no other reason than his lengthy history with the language. Coincidentally, this decision not only introduced him to writing but to reading as well. Prior this transition he had read three books. One of which he understood.