Midnight finds us rolling through the waves of the old Double Drive In, the gravel crunching under our tires, the Monte Carlo's trunk bottoming out like it used to, and all the broken glass, beer caps, and bullet casings now sparkle like stars.

From "Trauma Plate" as included in Emporium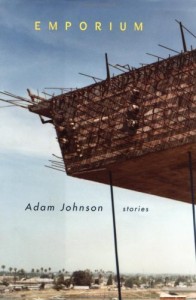 Emporium taught me more about short story craft than most textbooks dedicated entirely to the topic. Adam Johnson has what some may call a natural story-telling ability, and I'd agree for the most part, but nature, I suspect, takes a person only so far, and Emporium exists as such a perfect specimen of contemporary fiction that I would hesitate to believe we as human beings have this innate level of ability.
Yes, he has a flair for language. Yes, he can craft a compelling storyline. But what truly makes Adam Johnson endearing is his obvious knowledge of the craft. He has – and I would say this about very few people – a Richard Russo-ian ability for story.
I read somewhere that Adam Johnson actually enrolled in his first university level fiction class by accident (he incorrectly transcribed a class number when enrolling, trying to fish for an easy A by taking a poetry class). Proof that accidents are God's little way of being a hilarious son of a bitch.

---
Subscribe to my amazing, hilarious YouTube channel. Just click the button below.

Consider sharing this post on Facebook, Twitter, and Google+. Think of it as a way to tell a friend "I'm thinking of you."