100 subscribers! It's a milestone, to be sure. The first milestone of what I hope to be many, many more. Thank you to everyone who has subscribed (and will subscribe, after getting a whiff of what's being given away to celebrate this 100 subscriber achievement).
As a thank you to all subscribers of this book channel, I am giving away a one-of-a-kind, handmade, leather bound edition of Warmed and Bound, an anthology in which one of my stories appears. Warmed and Bound is a truly exceptional collection of dark, noir-inspired stories of sometimes dystopian, sometimes too-real-I-wish-it-were-dystopian fiction.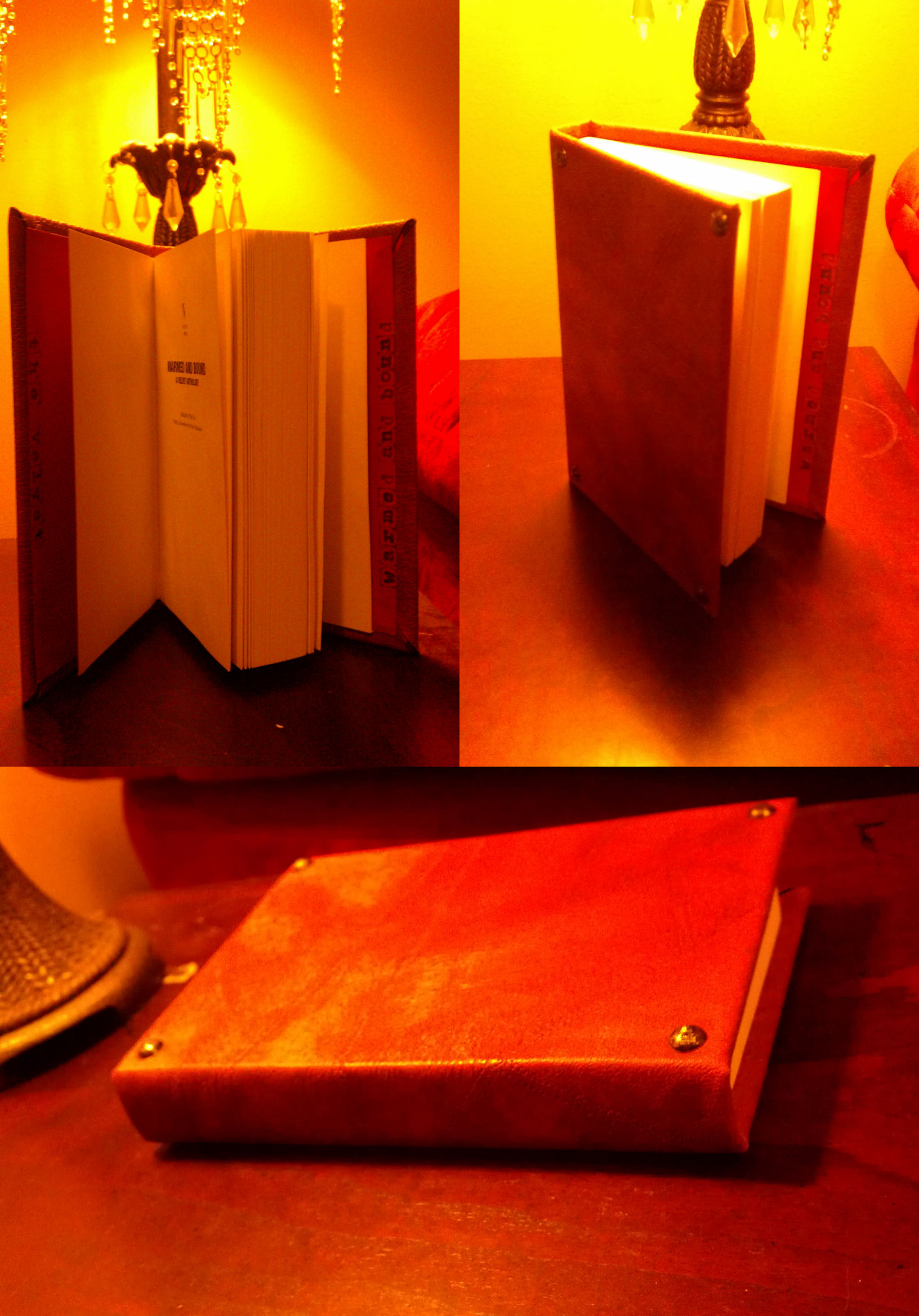 Authors include: Matt Bell, Blake Butler, Vincent Louis Carrella, Craig Clevenger, Brian Evenson, Stephen Graham Jones, Bradley Sands, Paul Tremblay, me, and many, many more, including a forward from Steve Erickson! Click here to watch a video trailer promoting the original Warmed and Bound anthology.
I warn you, I'm no professional book binder. In traditional homemade-Caleb fashion, this bound edition, though absolutely lovely, isn't something you could sell on eBay for thousands of dollars, at least not until I'm dead…and not until shoddy craftsmanship goes for a premium on the black market for some reason.
Rules:
You MUST be a subscriber to my YouTube channel: http://www.calebjross.com/CalebjrossSubscribe
You MUST leave at least one comment at YouTube on the video that announces this giveaway (linked via the image at the top of this post). Feel free to leave as many comments as you want—the more conversation the better—but know that you will only have one entry into the giveaway no matter how many comments you leave
If you win the giveaway, you must be willing to send me your mailing address. Otherwise, how would you receive the amazing prize?
More meta:
Giveaway is open to anyone, anywhere in the world. I understand shipping costs may be crazy to some places, but I don't care; I'll just skip lunch for a few days.
Must be at least 18 years old
Giveaway is open for comments/submissions through September 30th
If you are reading this and haven's subscribed, what the hell are you waiting for? Subscribe: http://www.calebjross.com/CalebjrossSubscribe

---
Subscribe to my amazing, hilarious YouTube channel. Just click the button below.

Consider sharing this post on Facebook, Twitter, and Google+. Think of it as a way to tell a friend "I'm thinking of you."
About Caleb J. Ross
Caleb began writing his sophomore year of undergrad study when, tired of the formal art education then being taught, he abandoned the pursuit in the middle of a compositional drawing class. Major-less and fearful of losing his financial aid, he signed up to seek a degree in English Literature for no other reason than his lengthy history with the language. Coincidentally, this decision not only introduced him to writing but to reading as well. Prior this transition he had read three books. One of which he understood.