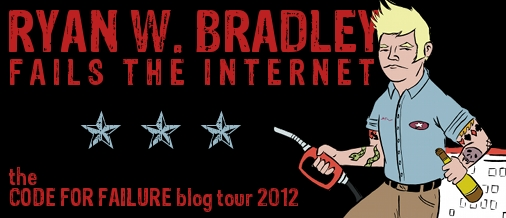 When I told Ryan that for the blog tour stop here I would write a bit about my own strange affection for convenience stores/gas stations he, in more eloquent words, told me I was crazy. Well, perhaps I misrepresented him. His actual words: "I like the nostalgia factor. I like the smell of gas but I'll tell ya, the nostalgia goes away when you work there."
Perhaps so. But if the work experience is anything like that of Code for Failure's narrator, then I'd say nostalgia is but one type of memory you'll come away with. This guy gets laid like a disembarking Hawaii tourist.
The novel is less a single, cohesive story and more a collection of vignettes all related to the narrator's job as a gas station attendant cum oil changer, or gas station attendant cum to married women and teenage girls, as the case may be.
Back to my gas stations. Why do I look back so fondly on convenience stores? Growing up in a small town of 3,500-4,000 people, shopping took place between two grocery stores and three gas stations. The gas stations felt consistently new and comforting. Why? I'm not sure. Perhaps the understanding of temporary fuel, of gaining sustenance where I probably shouldn't. Is this a comment on my fatherless childhood, needing to thrive in less than optimal conditions? Probably not. But I have no better reason.
When road-tripping (that's engaging in a long-distance trip in a car, not hotboxing in a vehicle) I actually look forward to the gas station breaks. I'm not at all the sitcom stereotype father, the guy who simply wants to 'get there' as fast as possible. I'm the sitcom stereotype kid who wants to break every 100 miles to pee.
But a kid's gas station Code for Failure is not.
You want a gas station experience like one you'll surely never have? Order Ryan W. Bradley's Code for Failure, now at Black Coffee Press.
While you're at it, check out the rest of the Code for Failure tour:
| | |
| --- | --- |
| Monday March 19 | |
| Tuesday March 20th | |
| Wednesday March 21st | |
| Thursday March 22 | |
| Friday March 23 | |
| Saturday March 24 | Me |
| Sunday March 25 | |
| Monday March 26 | |
| Tuesday March 27th | |

---
Subscribe to my amazing, hilarious YouTube channel. Just click the button below.

Consider sharing this post on Facebook, Twitter, and Google+. Think of it as a way to tell a friend "I'm thinking of you."