Long ago, way back in 2010, when the world was a simpler place, a group of writers and readers decided to create a podcast which would establish a round-table, literary discussion format for the purposes of imbuing dick and clit jokes into otherwise serious literary discussion. Well, in late 2011, The Velvet Podcast sadly went the way of Margaret Thatcher. But I didn't feel it right to watch this great content fade away. So, over the next few months look forward to a resurgence of The Velvet Podcast…as much as re-posted archived material can be called a resurgence. Enjoy. And don't hesitate to add this podcast URL to your favorite podcast subscription app so you can enjoy the wonderful content wherever you may be.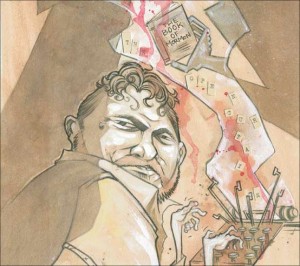 This is a very special episode of The Velvet Podcast. Caleb J Ross interviews author Brian Evenson about his upcoming AWP Conference panel, Crime, Horror, Sci‐Fi, and Fantasy… Seriously. Extract below:
(Anthony Smith, Brian Evenson, Stephen Graham Jones, Tod Goldberg, Mark Smith, Seth Harwood) Six writers of genre fiction who also teach and/or have graduated from university creative writing programs discuss how they approach genre fiction as a serious literary pursuit rather than as a lesser form of fiction. In addition, they discuss attitudes towards genre fiction in the university and how those attitudes have changed over the years.
Though this podcast doesn't deal directly with The Velvet community, Evenson is a highly respected author around those parts, and there is a plug or two about The Velvet Podcast.
I want to personally thank Mr. Brian Evenson for taking time out of his day to chat with me. He has made this fanboy quite happy.
Be sure to visit his website for details about this amazing author.
Illustration by Dave Crosland
Originally posted 4/10/2010
---
Subscribe to my amazing, hilarious YouTube channel. Just click the button below.

Consider sharing this post on Facebook, Twitter, and Google+. Think of it as a way to tell a friend "I'm thinking of you."