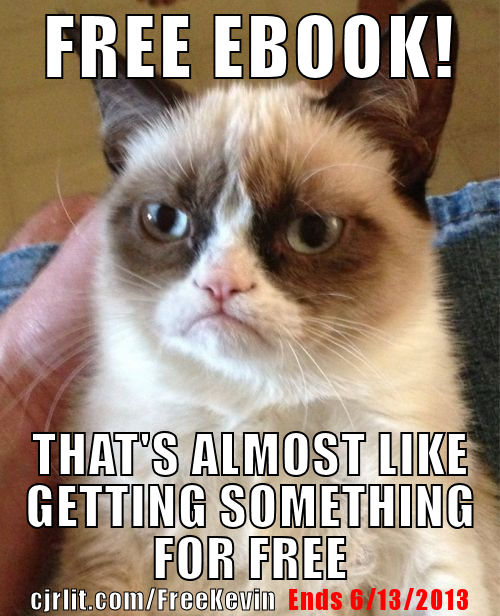 Every once-in-a-while one of my novels gets promoted as a FREE Kindle eBook for about a week. That every-once-in-a-while has come again, now. Head over to Amazon.com to get your absolutely FREE copy of I Didn't Mean to be Kevin. No fine print (except for the super fine ass print that is I Didn't Mean to be Kevin).
Click to start reading now: http://www.amazon.com/exec/obidos/ASIN/B0088QLPFM/thecalebrosso-20
FREE not enough to convince you? Check out some of the wonderful things some wonderful people have said about this wonderful novel:
Publishers Weekly
"A stirring novel, this extraordinary work plays upon the reader's willingness to suspend disbelief and turns it on its ear…The novel casts a similar spell on its readers…Covering ground similar to the works of Sherman Alexie and Chuck Palahniuk, this is an author worth keeping an eye on."
Rayo Casablanca, author of 6 Sick Hipsters and Very Mercenary (Kensington)
"Brilliant…one of the most amazing fiction concepts I've ever read."
Joey Goebel, author of Torture the Artist and Commonwealth (MacAdam/Cage)
"In I Didn't Mean to Be Kevin, Caleb J. Ross writes fearlessly, never shying away from the wild, insane places where his fertile imagination leads him. The first half a twisted take on small-town aimlessness, the second half the American road novel from hell, the book is ultimately a darkly comedic evaluation of a generation of motherless men."
Paul Tremblay, author of  The Little Sleep and No Sleep til Wonderland
You read this for the truly memorable cast of characters and Caleb's smart, funny, and imaginative spin on a Palahniukian conceit…Here's hoping some of that mainstream audience can pull their heads out of their asses long enough to read Ross, and then be gloriously horrified.
Ready to spend your hard earned nothing on this book? Go here now: http://www.amazon.com/exec/obidos/ASIN/B0088QLPFM/thecalebrosso-20

---
Subscribe to my amazing, hilarious YouTube channel. Just click the button below.

Consider sharing this post on Facebook, Twitter, and Google+. Think of it as a way to tell a friend "I'm thinking of you."